Max Spann Covid-19 Response Program for our Government Clients
"Raising Government Revenue in our Current Climate"
We hope this message finds you, your family and co-workers safe and healthy. As we are beginning to see the flattening out of the Covid-19 contagion, our Company has implemented a strategy to conduct business on behalf of our clients while adhering to CDC guidelines and other health policies for the protection of the greater community. Business will continue and Max Spann has the Competitive Bid Solutions to help our clients sell their properties quickly and efficiently.

To that end we have following components in place and ready:
• An online only Auction platform in which buyers can bid from their phones or computers.
• "Virtual" property tours where prospective bidders can review a Property on-line.
• A carefully structured open house plan which would limit and space out physical visits.
• A virtual data room where prospects can download detailed property information packages (PIPS).
• Structured Sales, Sealed Bid and RFP Management Services.
• Electronic Signature and money wiring services to efficiently handle contract management.

With these programs in place we are looking to proceed with auctions we had postponed at just prior to the outbreak and are targeting the end of May 2020 . We are now looking at our June calendar as well for new prospect clients.

Covid-19 will certainly change the way we do business and we are ready. We do see delays and some challenging times ahead however, interest Rates are lower than ever before, buyers are looking for new locations with home offices and a new dynamic on how we interact. Remember, our Government Program.

Benefits of a Professional Max Spann Multi-Media Marketing Campaign
Expanded geographic pool of buyers achieves the highest competitive values
No Cost to the Municipality—Max Spann Auction Co. pays upfront marketing - Purchasers pay commission
Max Spann Auction Co. handles all inquiries— No Burden on your staff
Auction process assures transparent transaction
Contact us today to learn more about our Covid-19 Response Program.
Be safe and healthy!
Max Spann, Jr.
President
info@maxspann.com
888-299-1438 x10
---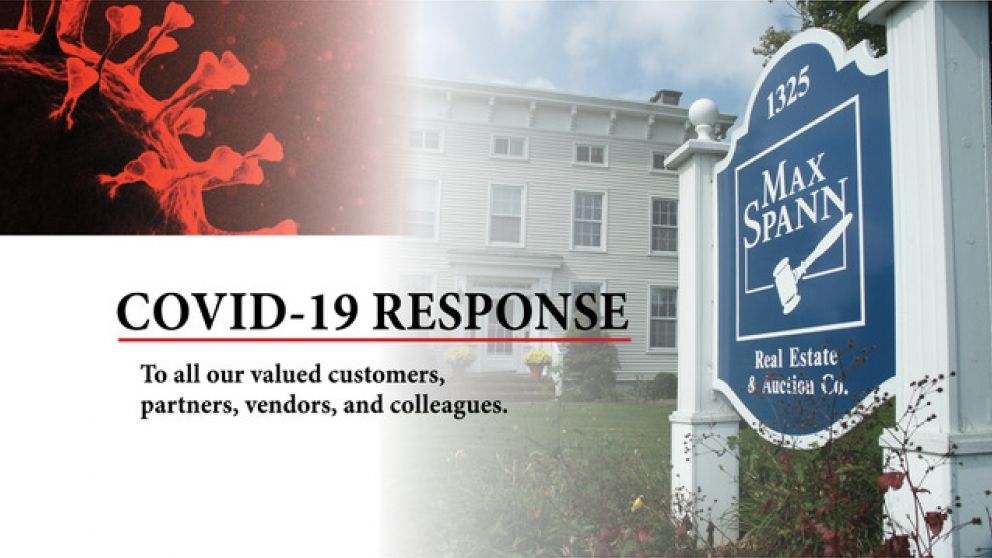 The number one priority at Max Spann RE & Auction Co. is to protect the health and safety of our clients and employees. We are carefully monitoring this evolving situation and following the guidance of the Centers for Disease Control and Prevention (CDC) and the World Health Organization (WHO). We have policies and procedures in place across our business to address issues as they may arrive.
In the interim we remain open albeit largely working remotely to continue to service our clientele and be of support to the real estate community. While we have rescheduled some impending auctions, we hope to announce new dates shortly for online only auction dates. Please feel free to contact us via email or on our website. There might be a slight delay in a phone call back as I am sure everyone can understand under the circumstances. We are confident that this challenge will eventually pass and it will be back to usual business.
Our thoughts and good wishes go out to all of our valued friends and associates.
Be safe and be optimistic!
Yours truly,
Maximillian M. Spann, Jr.
President
"50 Years Serving the Nation"
Max Spann R.E. & Auction Co.
New York, NY – Clinton, NJ – Naples, FL
Tel. 888-299-1438
www.maxspann.com